Hello my bloggy friends!
I am writing this quickly before I head out on the road to my son's MX national race at Loretta Lynn's Dude Ranch.  I only had time to visit a few of last weeks party links but I wanted to show a few that catch my eye.
p.s.  I am really taken a risk, hosting a meme without having access to internet.  If something goes wrong, I apologize in advance.
Nautical Mantel shared by Homeroad
Butterfly Specimen Art shared by Junkin' Junky
French Cookies shared by The Enchanted Oven
Amazing Master Bedroom shared by Conspicuous Style
Seaside Lunch Tablescape shared by The Tablescaper
Chocolate Chip Cookie Ice Box Cake shared by Sun Scholars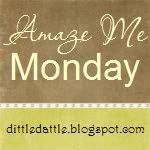 Filed Under: Amaze Me Monday